10 different wines for 10 different occasions
This article is gonna show you real short cut to find these 10 different wines for 10 different occasions. Let's check it out!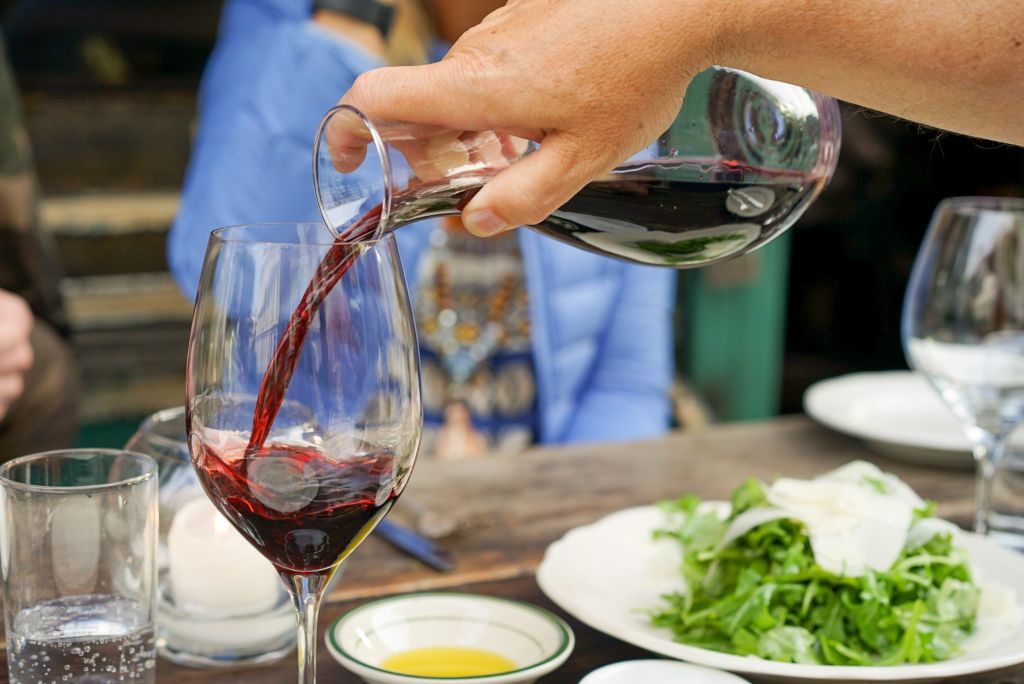 When growing up, you'll soon come to realize that having a nice bottle of wine along with you on any special occasions can't be more perfect and classy. Obviously, people are found interested in wine more than beer in any distinctive events, from weddings and anniversaries to birthdays or retirement parties.
In fact, wine isn't only a very good partner with food, music, as I have mentioned above, it is also the best buddy for some occasions or specific contexts. And darling, I can deeply understand if you are getting confused as there are tons of varieties in this wine world, knowing nothing to go for (and maybe blindly picked a random bottle just because of its cool label, I did that before). Well, there's no need to feel ashamed for that, because this article will be your wine-guide to make sure you have the best choice ever!
#1 Picnic
Nothing ever feels better than an outdoor picnic in such a summer breeze. Just imagine how the sunlight warms up your skin, the wind blows through every inch of your hair, it chills me out everytime even only by imagination! Coming to picnic, a refreshing, trendy and "able to please everyone" Rosé will always be my first choice!
Being a kind of rose, Provence Rosé (South of France) is also a fruity and aromatic one, which tends to have citrusy and light flavours such as orange, vanilla, strawberry or raspberry. Tell me what is more blessed than sipping a glass of Rosé on a hot summer day and having grilled fish or a chicken salad alongside? This type of wine is also the ideal choice for non-wine-drinkers to first start their journey in wine without being put off by a heavily tannic monster one.
A typical Provencal wine, salmon pink in color, light, fruity and refreshing.
Besides, this piece of art will never ruin your light dish for a picnic. Don't you dare to choose a big, bold red one for a sunny day, that'll be a disaster!
#2 Dinner Party
A family gathering, close friends meeting or just simply dinner will be much more enjoyable when you know how and what to add in - yes, wine! It's quite important to pair the food and wine in a correct match, however, there's no need to get extremely frantic about it as you'll soon find some guides when scrolling down these very basic types of dinner parties and their besties!
First
, if you're going to eat some seafood, fish or white meat such as chicken you should probably try a bottle (or two) of Chablis - brilliant with seafood, thirst-quenching and brilliant on its own.
Chablis, the star of the French Aperitifs
Chablis is significantly less buttery and sweet compared to its Chardonnay siblings, but displaying more citrusy characters, minerality and salinity instead. You'd love to try it out alongside raw fish and sushi, or used as a palate cleanser due to its light, delicate taste profile!
Second
, a barbecue or red-meat dish should never miss a Shiraz. I have to admit that I'm a big fan of grilled food and I've never stopped searching for its best wine-mates. I'm not a strict one, but ain't easy-going as well. However, I have my eyes (and now my heart) on Shiraz.
What Australia Syrah does best
The colour of Shiraz, depending on regions and vintage, can be ranged from pale red to bright ruby and deep purple. You'll absolutely fall for its jammy notes of black cherry, licorice along with vanilla and clove from aging in oak barrels. Shiraz can feel a bit heavy due to its high amount of mouth-drying tannins and full-body, but it also contains one of the biggest levels of antioxidants that benefit health. So, you actually don't even need to consider because Shiraz will, for sure, rock your palate and BBQ party!
Third
, let's turn this vegan meal into a brand new premium version with some sips of Riesling!
Under the combination of citrus, stone fruit and floral notes as well, Riesling is considered to be a fresh, highly aromatic wine type. You can easily spot out a combined scent of fruit, nectarine, apricot, apple, pear and sometimes honeycomb, jasmine too.
French riesling at its top: a balance of citrus and power
Mentioning flavor profiles, Riesling comes in a mouthwatering array, high acidity and no tannins at all, which turn it into such a pleasure journey for vegetarians to variously pair food with. It is, in fact, made across the full range of sweetness levels, from dry to medium dry to medium sweet to sweet, which depends much on where the grapes were grown.
But that's not everything interesting about Riesling, I have something more for you!
Being a full-time content writer (and part-time wine lover), I've come across many opposite comments on whether Vietnamese food can be paired with wine or not. And I have to say, it's not just delicious, but more likely to taste no different from heaven! Especially with Riesling.
Vietnamese food, generally, doesn't taste as spicy as some other Asian cuisines like Thai. On the other hand, its extreme delicate balance of flavours and textures will no doubt amaze you.
Amazing Riesling, amazing!
To go on well with Vietnamese Cuisine, I strongly believe the high in acidity and natural minerality of Riesling will please your palate, as well as complementing the flavours of any Vietnamese dish, while also being able to stand up to the punch of chilli, too.
Go grab a Pho now to see if I tell you the truth or not!
#3 Date Night
If you're about to have a date night, please don't ever think of setting the mood with a six-pack of Bud heavies. Gentlemen, please listen to what this lady is about to say as the information below will decide if you have a chance to have any more dates or not.
Situation number 1
, if you're going on your first date night ever, you should look for something light, semi-sweet and more fruity-towards. We must always start slowly and nicely, not just in choosing wine only, and Chenin Blanc would be my very first choice if I were you in that situation.
Chenin Blanc, grape to discover
Besides its floral aroma, apple and pear-like flavour, Chenin Blanc is quite rich in barley sugar and honeyed characters. In fact, this is a traditional French variety but not many people see or acknowledge that often.
As a lady, I personally think it would be very elegant and caring of men to choose an easy-drinking type of wine on our first date as he might not know whether I am a drinker or not. Apart from that, I'd love to start our night smoothly with some salad, light snacks and a sip of Chenin Blanc, or to finish my date with sweet desserts, of course with Chenin Blanc too.
Situation number 2
, if you have known your partner for a while (and have time to discover each other's likes or dislikes), it's high time we moved into a new level of wine and Merlot will do you good! Being famous for its elegant, smooth, soft and can easily pair with almost any meal, you'll love how the taste of red fruits and hints of black pepper explore in your mouth and quickly seduce your soul from the very first taste.
Fantastic Merlot from the Iconic Chilean winery
Building up medium tannins and being extremely easy-drinking, Merlot is flawless for a date evening, when all you want is something that can light up your night and go on well with a variety of dishes. And now your relationship is about to step into a whole new stage!
#4 Housewarming Party
Selecting gifts can be complicated sometimes, especially when you have no ideas about the person/people you're choosing presents for. When mentioning the housewarming party, we can come across a lot of options, but none of them is as attractive and impressive as a bottle of wine. In case the owner of the house may invite other people to the party, your safest choice is to pick up a crowd-pleaser, food-friendly as they will likely open your bottle to enjoy right at the party!
For these occasions, things can never go wrong with Prosecco - the sophisticated, delicious, fruity and sparkling beauty. Prosecco gives out the best flavours of apple, honeysuckle, peach, melon and pear with a medium to high amount of acidity and frothy bubbles. You can sometimes spot the light appearance of cream, hazelnut and very lovely tropical fruits, too.
Arriving in a cut-glass bottle, made with the finest Glera grapes, this is Prosecco made with Freixenet's 159 years of expertise in sparkling inside out!
Being super versatile with food, Prosecco can work as a great palate cleanser between bites, or be used with cheese for the appetizer. Honestly, I have to pour a glass of Prosecco when writing this part of the article, so irresistible!
#5 Wedding Party
Considered as one of the most important and remarkable events of a person's life, you surely don't want to ruin it in any way (even that is your wedding party or anyone else's). So, if you're about to join a wedding party, make sure you know how to turn it memorable - of course, with wine!
As we usually follow the common guides on pairing light wine with light food, and on the other hand, heavy wine with heavy food. It all makes sense, but it happens to choose only one bottle (red or white) for the whole party, I'll absolutely pick up Merlot - a light red wine - for its balance and flexibility in making many different blends.
Subtile and elegant
The best words to briefly and perfectly describe Merlot wines are smooth, rounded and easy-drinking. Having medium acidity, medium-bodied and characteristically soft tannins, Merlot can make it easier to consume with smoother and less bitter experiences than many of its counterparts, especially for unusual-drinkers.
Be careful because you'll get lost in tons of fruit - the most notable character in every Merlot that is extracted by plum, cherry or blackberry, sometimes it will pop up with herbs and spice and exhibit a scent of cocoa and cloves, too. I know you can't find a way out, and you even don't want to find one (ahaha)
It, infact, depends much on the climate where the grapes are grown, Merlot will give out different colours, scents and also tastes. For example, Merlot wines usually have structured tannins and more earthy flavours in cool climates, while in hotter climates, it will display more fruity characters.
Whatever it is, Merlot is always considered as a first-class wine pairing for any food, from roasted vegetables, chicken and other light meats, to lightly-spiced dark meats in general.
#6 Anniversary & Birthday Party
It's a little bit shy for me to confess, but I am truly a party person. And wherever I go, I make my mark with a bottle of wine, especially birthday parties. Due to the fact that I'm not excellent at picking gifts - shoes, bags, perfume, accessories? No offence but that selecting and choosing presents can drive me crazy!
To make it less complicated (and look cooler indeed), Pinot Grigio is everything I pick up for any Anniversary and Birthday party to win over a crowd. As this is a very approachable white wine, it's gonna be fun, pleasant and keep the mood light all the way! The main reason for my special love toward this piece of art is they do have the magical ability to pick music that won't upset anyone else at the party.
Citrus, tropical fruity notes
With its significant scent of green apple, citrus, honey and pear, most people enjoy drinking Pinot Grigio due to its simple, smooth and almost silk-like texture that leaves an impression on the palate. Moreover, the mouth-watering acidity keeps the refreshing wine from being too sweet and depends on where the wine comes from, it may also have a slightly salty favour, too.
Maybe you haven't known it yet, but sweetheart, don't panic at the wine store because Pinot Grigio has different names in different regions. Pinot Grigio in Italy, Pinot Gris in France, Grauer Burgunder in Germany and Grauburgunder in Australia!
Although it's not always a connoisseur's top pick, Pinot Grigio is the second most popular white wine in America and well-loved by wine drinkers everywhere.
#7 Festival
When coming to festivals, exclusively Tet holiday in Vietnam, Champagne is the first thing that comes to my mind, which is possibly the world's most famous wine and literally associated with celebrations.
Before diving right in, we have to admit that no one can resist enjoying the "pop" sound when opening a bottle of Champagne, this is one of its most recognizable identities, I can say. A truly piece of art needs time to relish little by little, and it's kinda satisfying to observe how perfect it is. Trust me, if you just enjoy how it smells and tastes, but not how it looks, you've probably missed the best part of Champagne.
Special cuvee for special occasion
Blending in the cheerful atmosphere of festivals, Champagne also has a bright, radiant colour that is pretty much appealing to the eyes. Then there is the spectacle of the bubbles itself – endlessly fascinating as they rise irrepressibly to the surface and collect in a jostling ring. How amazing its outlook can light up the whole day!
Champagne wines are so subtly aromatic with particular range of fruit, floral, wooded and spicy notes. You'll be surprised by the way bubbles feel like crystalling pearls on the palate, pleasantly sparkling, instantly seductive and velvety. It is impossible not to grab one and enjoy such underlying fruitiness, smooth background of ripe fruit and exotic wood.
In fact, I usually compare Champagne to the musicians in a symphony orchestra. They take us from excitement, completeness, then close on a note of peace and harmony. This is just too good to be true!
#8 Business Meeting
Business meetings by day can be boring sometimes with tasks that need to be worked on and stressful faces. It's time to put it aside and start on more friendly business meetings by night! Wine is uniquely suited to serving a large group compared to other alcoholic beverages, furthermore, being trendy or traditional, there are plenty of choices at all price points and types in wine (and don't you ever think of inviting your business partners packs of beer).
My suggestion is to find a wine that is elegant to show them you're friendly and sensible, but bold enough to determine your confidence. In that situation, without a doubt, a bottle of Cabernet Sauvignon will never let you down!
Emerging the extremely aromatic and flavor components of dark fruits and warm spice, you can spot hints of tobacco and leather as well. Cabernet Sauvignon is made for fat and protein thanks to the tighter tannins, which is no different from heaven once paired with rich grilled meats, peppery sauces, and dishes with high flavor.
9, a lucky number!
You can also experience your Cabernet Sauvignon journey with strong-flavoured cheese and umami-rich mushroom dishes also. Despite having strong and a bit overwhelming characters, this is a perfect missing piece of a puzzle when matching with food that builds a can't-be-more-perfect combination.
#9 Weekend Chill
No more working, let's chill out with your family and friends at the weekend! Personally, weekend to me is a chance to rest my bones after hard-working days. And the older I get, the milder wine I seek for. Such a shame but I know one day in the future, I'll find myself lying on a couch with a glass of Riesling, listening to the old playlist of Frank Sinatra and don't give a heck about what's going on out there.
However, get back to the track. If you are looking for a drink to calm your soul but still warm up the family gathering atmosphere then trust me, Riesling is never out of style.
Pleasing taste for every palate, I can say! Basically, you don't even need to pair food with this masterpiece as itself alone is very pleasant already. But if you do want to match with some dishes, Riesling is the ultimate food-pairing wine that can fit mostly every cuisine. Let me show you some!
The german quality in a bottle
Shellfish and classic preparations of fish, pork and poultry as well as cream sauces can go quite well with dry Riesling, while rich, spicy Asian dishes are the best buddy of medium sweet one. In case you want to head for a sweeter tongue, fruit desserts and sweet Riesling is never a bad idea.
So what are you waiting for? Go buy 2 or 3 bottles because you'll soon finish them all
#10 Drink alone
Being alone is different from being lonely, I just want to make sure that your guys get what I actually mean in this ending part of the article. You should toast to the fact that you are your own best company sometimes, so be the master of your own destiny and pick whatever you love.
A hot summer evening can't be more perfect with some sips of Yaluma Christobel's Moscato!
If it is a summer,
hot day
, there's nothing more blessing than to have something sweet and smooth. With a bottle of Moscato, you can achieve both! Quickly comfort us with such beautiful fragrance of peach, apricot, orange citrus and delicate floral notes from rose petal and elderflower, Moscato can bring you from one to another pleasant real fast. Moscato is, in fact, much more versatile and complex than most would realize, no matter paired with fiery cuisine, poached with fruit, mixed into cocktails for fizz or sipped as an appetizer itself.
I'd love to drink it alone, but if pairing with food is what you're looking for, balance is always the secret key. Along with a sweet-base profile, food possessing opposite flavor profiles, like spicy, sour, salty and bitter can't be more ideal.
But if it is a rainy,
cold day
, sips of sips of Pinot Noir are all I need.
Being a typically fruit-forward, Pinot Noir is a light to medium body, medium-dry red wine that you'll be greeting with an earthy, herbal and spicy note when tasting. I just simply admire how its medium acidity and low to medium tannins turn this into a very balancing red wine.
Of course, with this easy-going character, Pinot Noir is quite enjoyable drinking alone, but also well-suited to pair with a wide variety of foods, including any meat from grilled salmon to smoked turkey, or even vegetables like mushroom and eggplant curry.
Very fruity: ripe red fruits, hints of licorice
It, in a nutshell, has everything we're looking for in a bottle of wine, light enough not to overpower subtler meals while still having enough boldness to accompany spiced items. Even though I love sunny days unconditionally and not being very fond of cold climates or rainy weathers, I suddenly just want a heavy rain, so that I can enjoy a bottle of Pinot Noir right away!
In conclusion, it is great to have bottles of wine that can light up your mood, be your friends alongside.

The right partners will give you the best memories and experiences, so do wine. Choosing the accurate one for any specific occasions will do you better!