Gift Your Dad for Father's Day ! 10 Best Wines to Match Dad's Characteristics
If your dad is a wine fanatic, that's awesome! You can tell what his choice is going to be every time he's about to toast. But what if this is the first time you give your dad a brand new bottle?

Which Wine to Gift Your Dad for Father's Day 2020? 10 Best Wines to Match Dad's Characteristics
Father's Day 2020 is just around the corner and it's time to find a perfect gift to light up his day again! We all know 2020 is a little bizarre and harder than the past years due to the novel pandemic, which may also affect your dad's mood somehow.
If your dad is a wine fanatic, that's awesome! You can tell what his choice is going to be every time he's about to toast. But what if this is the first time you give your dad a brand new bottle?
"Will he like it?"
"Does it fit his taste?"
Well, the answer lies in his personality!
Just like humans, wine has its own expression and characteristics that fit a specific type of appetite. So in a toast to "our superman" around the world, here are the best wines to surprise your father and show him that you care!
Dad with an Adventurous Soul
So your dad is an explorer and always out there testing new things. The journeys and adventures are his things, and you know he's open-minded. This trait has been familiar to you since you were born. Perhaps, there have been quite many times that he brought you along and helped you explore your world too!
If this is what you know about him, then a bottle of esoteric wine is what you need!
Esoteric wine is made of exotic grapes that not many people know about, and they are planted from the lesser-known vineyards. The reason why this type of wine is a perfect present for your dad is because it can actually wow him!
If he has a wine expert inside of him, then this is the right time to challenge his knowledge border. I'm sure you two will have a great time with laughter when he starts to learn about this unique wine.
If he's a beginner to wine, that's even better! Take this moment to explain why you choose this wine for him and ensure him that you adore his adventurous soul more than anybody else (well, except your mom, of course)!
Best Esoteric Wine:
Altano Douro Symington Red
Symington Family Blend
Tastes : Oak, Vani, Tobaco, Blackberry, Leather
Pairing : Beef, Pasta, Lamb

Price : 460.000
Idealistic Dad Who Follows Structure of Rules
Is your dad a little conservative who appreciates the old values in life? Does he believe in a specific system of opinions and rules that he expects you (and your siblings) to follow?
If this is how he is, I truly endorse how well he has raised you with his set of ideal values, which makes you become a great person you are today!
An idealistic and conservative dad will find a bottle of Old World wine his gem!
Imagine seeing his brightest smile when he holds a famous and classic bottle in his hand! I'm sure you will jump for joy!
Now, let me tell you why the Old World wine is the best of all in this scenario!
The term "Old World" refers to the European countries that produced the first wines in the world, which dates back to hundreds of years ago.
Their wine is heavily restricted with traditional guidelines that must be preserved and followed. These old standards have become a heritage that each winery respects and takes pride in.
These ranges of wines are also ranked on the top of the world. And just imagine when your dad is observing the juice through the glass, he's actually looking into a special heritage and pride that has been made for centuries.
Speaking of the tasting profile, most of the Old World wines tend to be lighter-bodied and lower in alcohol.
Best Old World wine: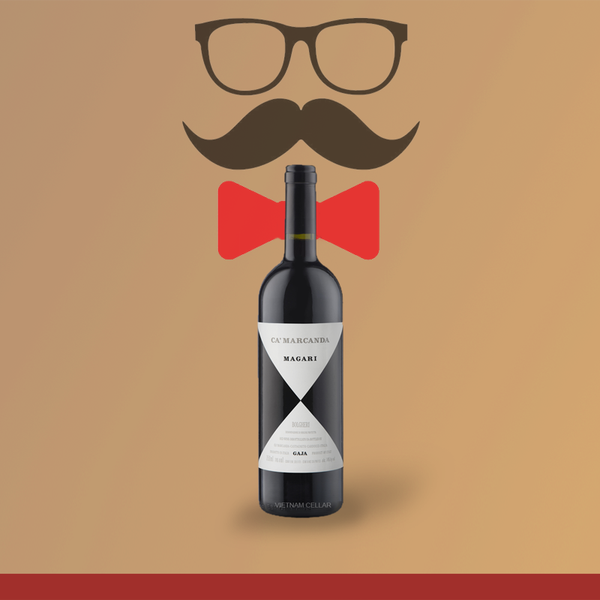 Ca'Marcanda: Magari
Gaja Italia
Merlot, Cabernet Sauvignon
Tastes : Blackberry, Cassis, Oak, Vani
Pairing : Beef, Pasta, Lamb

Price : 2.490.000
Dad Who Loves Sports
So you say your dad is an energetic person who is into a specific type of sport. You will find him being a rock star on the grass field, sweating his shirt playing tennis, or even staring at the screen non-stop during an NBA!
And when there's not a big game going on, he also likes to challenge himself with chess or games. He has the ambition to achieve. His life is truly exciting!
Now that you need a strong wine for a strong guy! Something that kicks in and raises his eyebrows.
Yes, I'm telling you to get a high alcohol wine! It doesn't have to be something that knocks him down after a few first sips, but it should be around 15% ABV, more or less (which makes it a medium-high or high alcoholic wine).
Some of the best dessert wines that are high in the alcohol content are Australian Shiraz, Port, Marsala, Madeira, and Sherry.
Best strong wine: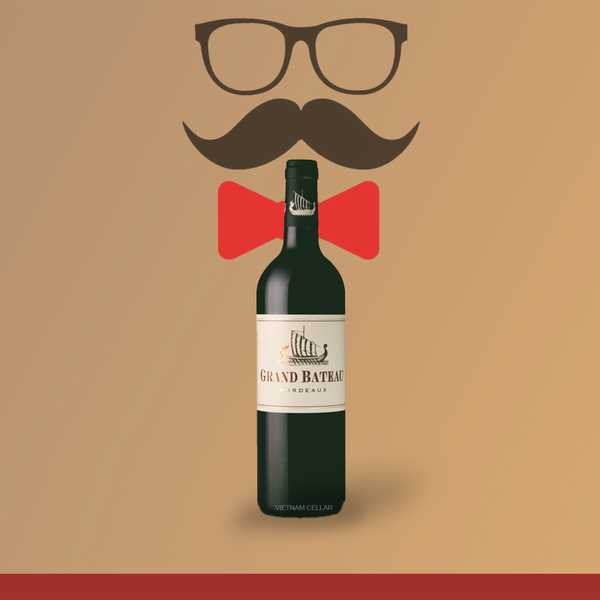 Grand bateau by Beychevelle
Beychevelle French, Bordeaux
Merlot, Cabernet Sauvignon, Cabernet Franc
Tastes : Plum, Cassis , Oak
Pairing : Veal, Beef, Chicken

Price : 830.000
Creative Dad
A creative dad will spice up your life no matter where you are or what you do! He's a creator not only at work but also at home. You've seen many amazing things come out of him over the years. His eyes for details are just wonderful, and you've seen him coming up with new ideas every single time!
So I believe that a wine with incredible label design as well as creative juice will truly mesmerize him.
The good news is that the world has seen so many different brands competing in the race of wine, which means they need to have that ONE THING to win the hearts of buyers.
Origin, style, flavor, ingredients are some important factors when you choose a wine, but LABEL is the top reason to win the heart of your creative dad.
A label or the way a bottle is a design that tells a lot about the brand and its expression for that specific collection. This is the first thing you see when you look at a bottle.
And of course, if a bottle that stands out from the rest of the line on the shelf, chances are that you will stop, pick it up and look for more details!
Best creative wine:
Los Prisoneros
Vicentin Family Argentina
Malbec
Tastes : Plum, Blackberry
Pairing :Beef, Lamb, Chicken

Price : 540.000
A Dad Who Loves Movies and the Stories Behind Them
Oh, cinephile we're talking about! Your dad probably has a collection of films in the living room and his mind. He loves culture and you've sometimes caught up in the deep conversation about the origin and story of a famous movie.
Is this your experience with your dad over the years? Then pick a storied wine for a history buff!
Let's go for a famous wine that was featured in one of the greatest hits of all time. Or it can simply be a specific bottle whose story and journey are in line with the story of the character he likes.
Best storied wine: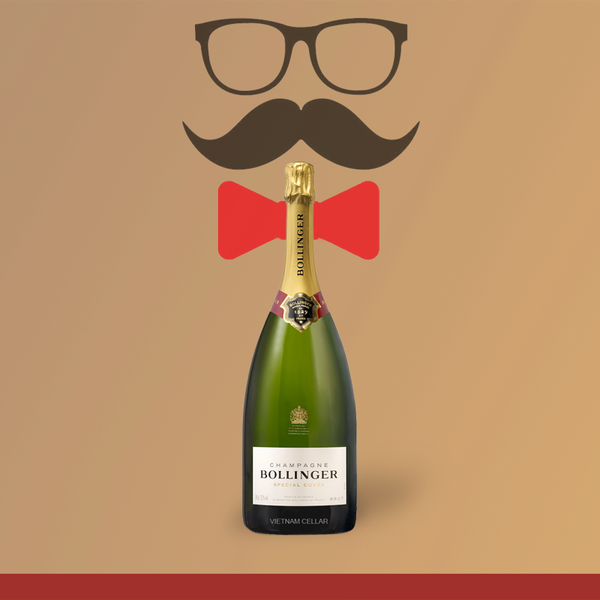 Bollinger Champagne Special Cuvee
Bollinger French
Pinot Noir, Chardonnay, Pinot Meunier
Tastes : Apple, Pear, Toast
Pairing : Aperetift , Fish, Chicken, Shellfish

Price : 3.090.000
Charismatic Dad
A charismatic dad is not only a star in your heart but also a center of attention everywhere he goes. He is adored and trusted by the people around him. And he always keeps his promises tactic. That's why you see others just seem to gravitate towards him.
The most ideal wine for your charismatic dad should be an iconic wine, or the best wine of all time and favored by a lot of people!
Talking about this style of wine, Cabernet Sauvignon is the most popular grape for red wine. It tastes heavenly and ranges across the planet. The most famous Cabernet Sauvignon wine comes from Bordeaux and Napa Valley.
Other than Cabernet Sauvignon, the quintessential pinot grigio is an easy-drinking wine and also a world-class famous wine. It's also known as "pinot gris" in France, America, Australia, Argentina, or "Ruländer" in Germany.
Best wine for Him :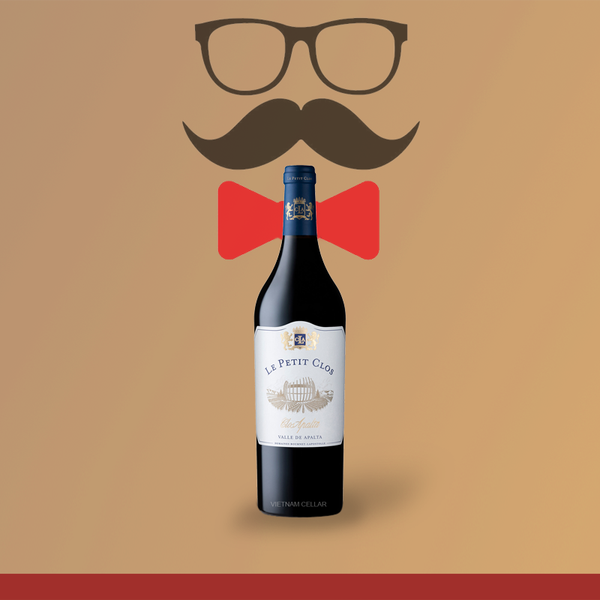 Le Petit Clos Apalta
Clos Apalta Chile
Carmenere, Merlot, Cabernet Sauvignon
Tastes : Black Raspberry, Cassis, Leather, Tobacco, Vanilla
Pairing: Veal, Beef, Pasta, Chicken


Price : 2.490.000
A Simple Dad
Your dad can be a superhero on the street but when he's at home, he just loves the simple pleasures. You see him gardening, cooking in the kitchen, or smiling into your mom's eyes on the couch. A simple dad will love a simple wine.
And when I say simple, it doesn't have to be a boring wine. A wine that goes well with a family dinner or a wine with a subtle and pleasing taste will complete his night!
Let's go over some delicate wines for a calm, easy-going, and profound person like your dad!
Delicate wine is a kind of wine that has multiple flavors but none of which is too dominant or bold. The fruits and alcohol in this wine surface smoothly.
A bottle of sparkling wine is a great choice! Its delicate and happy appearance is the best fit for a cozy family dinner on Father's Day. And what's so great about it is the versatility as food-pairing wines.
Apart from sparkling, a crisp white like Chablis from France or Sauvignon Blanc with a mouthwatering acidity to go with a heavy sauce dish is another wonderful factor to start the night!
Best delicate wine:
Les Volets Malbec
Boutinot French
Malbec
Tastes: Oak, Vanilla, Blackberry, Raspberry, Cherry
Pairing : Beef, Pasta, Veal, Chicken

Price : 450.000
Bookaholic Dad
Is your dad a thinker and calm person with a huge book collection in his room? He will surround himself with an arsenal of concepts, ideas, and history. And that's the reason why you catch him reading over and over again. His knowledge is beyond the border and you want some wines that complement his inner soul!
My advice for you is to find a wine that gives him a chance to analyze and think about what's inside that glass!
This kind of wine must be made of a diverse and versatile grape, and also has a sophisticated tasting profile.
Pinot Noir is one of the only wines in the world that is famous for its versatility. You will see it in sparkling, white, rose, and red. Pinot Noir shows off with its subtle flavor.
On the other hand, when you choose a complex wine, choose a wine that is more than one-dimensional. The complex wines have multiple layers of notes and tastes that intrigue our brains and make us think! Not only do they have fruity notes but they also express savory, earthy, mineral, or spicy layers.
Best complex wine: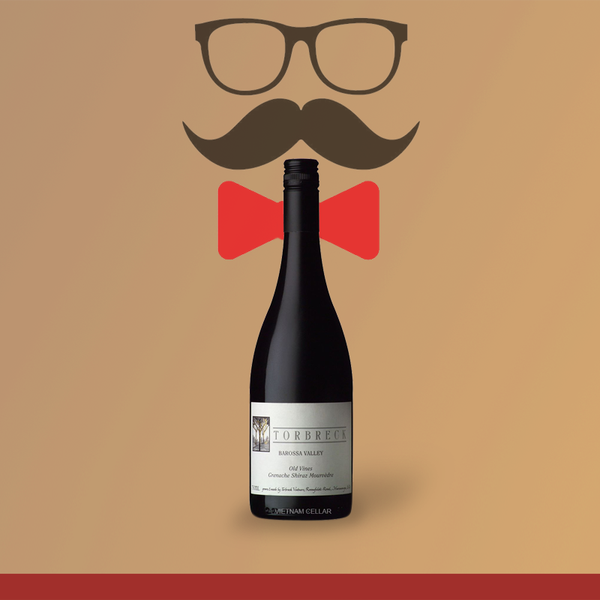 Torbreck Old vines
Torbreck Australia
Grenache, Shiraz, Malbec
Tastes: Raspberry, Plum, Vanilla, Coffee, Pepper
Pairing: Beef, Lamb, Chicken, Venison

Price : 690.000
Dad Who Is the Life and Soul of a Party
Is your dad the life and soul of the party? If you see him cheering, dancing, singing, and lighting up the vibe everywhere he goes, don't hesitate to spend a little extra cash for a famous party wine! I'm sure you are putting a smile on his face!
A classic ceremony or party wine like Champagne is surely the best gift he receives on Father's day! And make it even better, create a small home party to celebrate with a home-cooked meal that pairs well with Champagne.
You will never go wrong with Champagne! A glass of it in any kind of experience and moment will turn it into a sophisticated happening!
Best party wine: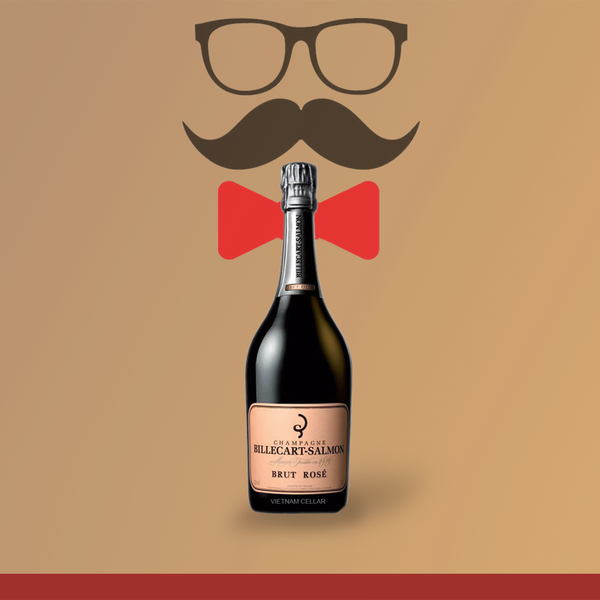 Billecart-Salmon Rose
Bellecart-Salmon French
Pinot Noir, Chardonnay, Pinot Meunier
Tastes : Strawberry, Strawberry, Citrus, Grapefruit, Cream, Yeast
Pairing: Shellfish, Fruit desserts, Appetizer snacks, Fish

Price : 2.900.000
A Technophile Dad Who Loves Technology and Innovation
So this type of dad is always caught testing out a new gadget or reading the latest innovation on TV. He has his world in the garage where he puts his glasses on and starts working. Or sometimes, you discover a brand new top-notch item that you don't even know what it is! And all of a sudden, your dad appears with all the instruction he seems to learn for years!
This is an interesting case to find an appropriate wine that amazes your dad. A wine that requires advanced winemaking tools to produce is all you need!
This case requires you to do a bit more research about the high-tech viticultural solutions that are applied to the vineyards. It can be a scanner that tracks the structure of the vines or a drone that detects the signs of the vines from above.
And guess what? Champagne and Cava are some of the best wines to receive advanced wine-making tools in the world.
Best innovative wine:
Catena Alta Cabernet Sauvignon
Catena Zapata Argentina
Cabernet Sauvignon
Tastes: Vanilla, Skin, Raspberry, Pepper, Licorice, Chocolate
Pairing: Beef, Lamb, Chicken

Price : 2.310.000
Wrap Up
Now that you know which is the best wine to gift your dad on Father's Day 2020!
If you're still unsure about the choice, chat with us anytime and let us pick the right bottle!
Subscribe to our Vietnam wine network now and let us do all the hard tasks to help you come up with the best choice!
Visit Vietnam Wine-Cellar now and choose your favorite bottle at a competitive price!