How to pick up good wine at the supermarket?
Picking wine at a high-end retailer might follow many criteria, but if it is the grocery store or the supermarket in town, things shouldn't be that complicated. Although not having as many choices at wine shops, you can somehow find a fine bottle at the supermarket. However, this dream only comes true only when you know how to pick them out among a mess on the shelves.
No need to worry because Vietnam Cellar is always here for help! To make it easier, all you have to do is following these 5 easy commandments below. Sweetheart, you'll soon find yourself a way through!
1. A simple rule: never mix the colour
Coming to wine, the first question we should always ask ourselves is, will it go on well with dishes that are going to be served? If you're an unusual drinker with the only hope is to sometimes make your meal more stunning with wine, you should probably stick to the very basic rule in the food-wine pairing: lighter wine with lighter food; heavier wine with heavier food. Let's dive in a little deeper!
-

Appetizer

:

Always start your meal lightly, you don't want to ruin your journey from the start with such heavy taste which will probably knock everything out afterward. For a fresh beginning, why don't you try out some wine options from the Northern part of France or New Zealand such as Burgundy Chardonnay or Pinot Noir?
It could be a red, white or rose wine bottle, but make sure you know it is easy to drink, fresh, light with nice acidity.
-

Main dish

:

Remember, red wine for red meat (or dishes that have spicy, complicated sauces); white wine for white meat (or seafood, dishes that have a simple cooking method with less complicated sauces)
For Red meat like beef, sausages, veal, duck, or even some pork dishes, you'll need a bottle that has enough boldness in the palate to back up for the food, especially the tasty sauces that go alongside with it. Let's take a look at Bordeaux, Rhone Valley, or Chile Central Valley because they are quite popular and also very pleasing!
For White meat like chicken and pork, fish and seafood, it would be such a blessing when paired with a white wine such as Chardonnay, Sauvignon Blanc or Pinot Gris. With less flavour added in, simple cooking recipes don't need strong wine to back up for it, but a light and elegant one to not overpower the taste. Choosing the wrong wine will cause you to taste the wine or the food only, so be careful.
Still have no idea which to choose? Let's find out your types of wine here: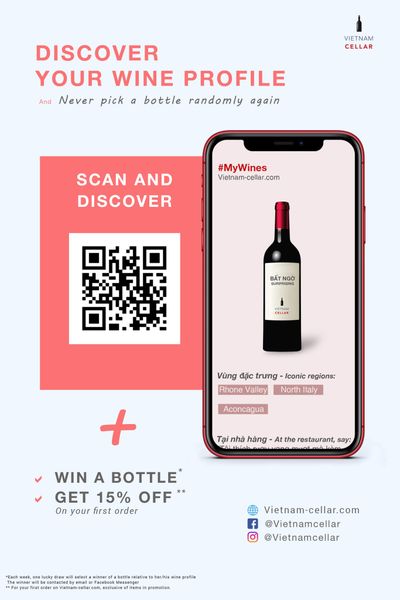 -

Cheese

:

We usually have in mind that cheese will mostly be served with white wine, but that's not everything. In fact, pairing cheese and wine is kinda more complicated than usual, but let's make it as brief as we can.
For light-tasting cheese such as Moza or Burrata, I'd prefer you to go for white wine as always, here we have some options on Chardonnay or Sauvignon Blanc. But with stronger tasting cheese like Pecorino and Cheddar, there's no doubt whether Malbec or Tannat can go with it or not (because it absolutely will)
-

Vietnamese Cuisine

:

We are so used to Western food and wine pairing but how about Vietnamese cuisine? Not so spicy or contains many flavours, Vietnamese dishes are widely loved for their balanced taste. And balanced food needs some drinks that have many characters in common with it, doesn't it? In this case, Riesling is one of the best choices you could ever make!
Being extremely food-friendly with nice acidity and smooth tannins, Riesling can perfect highlight the food, especially the traditional Pho, without overpowering it
*Little tip you may not want to miss: To ensure your wine-choice, you can make it easier by searching for some famous award labels and brands, or looking at scoring from famous experts that you know.

It would help a lot, trust me!
2. How much can you pay for that?
Price is not the most important thing but always matters. In order not to break your bank, you might want to take a look at the two elements below!
Always set up your budget for wine and make it one of your habits so that you'll lower the chance of exceeding your money. You can manage your budget by searching beforehand the price on the internet and make sure that the wine bottle is worth every penny.
Don't fall for a discount as it may not be beneficial as you think! Will a supermarket offer discounts for the best-seller items? I don't really think so, dear. When the out-of-season stock isn't selling as well as planned, appealing discounts take their roles. In conclusion, consider carefully when picking up a "good deal" because the chance of turning into the recipient of some snobby wine that isn't shifting.
Expensive wines are not always the best one in town. Being aware of sale-off items doesn't mean that the really expensive one is better to drink. Sometimes it has a higher price just because of the tax, but you will know clearly if that price is worth buying or not by reading the following part below.
3. Read the labels, they have all the information you need
This is one of the most important aspects that needs paying attention to, so make sure you won't miss a word.
- Front: Take some time to read the label as it can tell you many things, such as the name of the winery and vineyard, vintage or non-vintage, alcohol level (ABV), etc. Don't pick up a bottle just because it has a nice appearance, stunning labels won't always make awesome tastes.
- Back: While the front will tell you where it comes from, the back label will describe whether it's light, intense, sweet, dry, acidic or fruity due to the fact that a wealth of information is usually offered to help you match wines with taste profiles that you enjoy more. Don't forget to take all the advantages!
4. Are you choosing wine for any specific occasion?
If you are not, okay, you can pass this out. But if you do, you will have to know these: https://vietnam-cellar.com/blogs/moi-dieu-ve-ruou-vang/10-different-wines-for-10-different-occasions 10 different wines for 10 different occasions
5. Stay in the comfort zone, shall we?
You shouldn't expect too much that the supermarket will have some sommeliers or some staff that are fluent in wine to help you choose your wine.
The safest way is to "stay in the comfort zone" - sticking into brands or types that you've already known before so that the wine variety won't make your confusion grow bigger and bigger. It's not the right time to go into the wild without preparing anything, you know.
All in all, choosing wine at the supermarket is non-alike from the wine shop because you'll mostly do everything on your own, so get yourself what is necessary for hunting and be ready to nail it. But if you happen to get lost, don't hesitate to call us because we are always available for help. Do it because it's free!