How Catena Zapata reached the world #1 ranking

(Vietnamese version here )
10 wines ranked 90 and above points by Robert PARKER

Exceptional Malbec and Cabernet Sauvignon from Argentina

To drink now or collectible for the decade and beyond
To access the wines, please click on the banners
Winery Catena Zapata
Discover the winery ranked # 1 in the world
Great wines begin in the vineyard. Yet it can take years, even millennia, for a wine region to come of age. This is how Catena Zapata wrote its first chapter - when a wine visionary unlocked the potentials of Argentine limestone soils.
In 1902, Nicola Catena discovered high-altitude terroirs in the Andean foothills of Mendoza and written his first vineyard there. The land has ever since ages under the care of the Catenas, who have turned its potent, full-flavored grapes into top-tier Malbec bottles.
Embracing the family's experimental spirit, the grandson Nicolás Catena Zapata grew vines where no one thought they would ripen - at almost 5,000 feet elevation. His dramatically approach culminated in the discovery of a new terroir for wine, the Adrianna Vineyard.
From the site comes Adrianna Vineyard Fortuna Terrae Malbec, a line of wine celebrating Adrianna's geological uniqueness. Thanks to the freshness imparted by the deep soils and high-altitude climate, the wines of Fortuna Terrae have a nuanced acidity and delicate flower aromas. Named after its remarkable creator, Nicolás Catena Zapata is another signature line by Catena Zapata. This vintage blend is the result of a plant-by-plant selection in the winery's vineyards and over 200 micro vinifications. Aged in French oak barrels for 18 months, the wine has a serious backbone to support its more graceful hints of black cherry and licorice.
Today, the fourth-generation vintner Laura Catena runs the family business with the goal to compete with the best winemakers in the world, to win awards and reaching the highest place in the wineries ranking.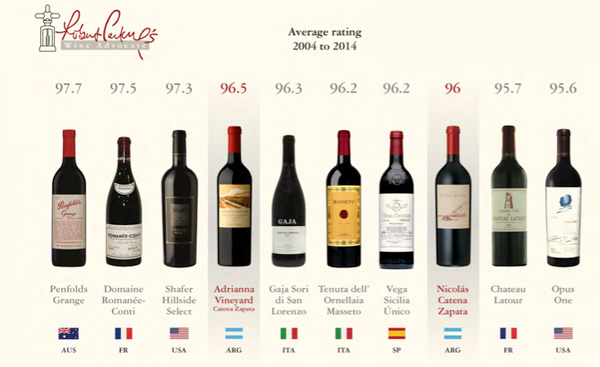 Devoting herself to the Catena Institute of Wine, she continues her father's winemaking dream with decades of research on the Malbec variety and Mendoza's geology. Under Laura's leadership, the searcher's culture increased and the winery has not only topped Argentine rankings but also surpassed many European heavyweights. Now a pioneer of the New World wine scene, Catena Zapata has truly put Argentine wine on the global map.
Enjoy our selection , delivered with careful transport service at your door within 2 hours.
Our team is here to support you anytime to answer your questions. <3
Discover more how Catena Zapata reached the world # 1 ranking? in this article.